Intersand is a Canadian producer of high-quality cat litter for over 30 years integrating new technologies, lots of research, and science in their formulas to offer you natural cat litter that takes care of your cat's needs and yours.
This unique brand's mission is to develop the best cat litter products on the market, that are non-threatening to your cat's health or your family's, and also respect the environment at the same time!
Intersand divides its products into four product categories of clumping cat litter:
OdourLock – A multi-cat formula, ultra-premium cat litter – The litter we use!
Ecolife – An earth-friendly, plant-based cat litter formula
Classic – A premium clumping cat litter
Simple – A good value for money clumping litter formula
But, before I get into reviewing each type of these cat litters, let me get you acquainted with the intersand brand and what it stands for.
What is Intersand cat litter made out of?
To make their clay-based cat litter formulas, Intersand uses premium quality sodium bentonite from the mines in Wyoming, United States, a worldwide known place for high-quality clay. Bentonite is naturally formed millions of years ago when volcanic ash accumulates and decomposes underground in a marine environment which then forms clay layers. Basically a naturally petrified volcanic ash.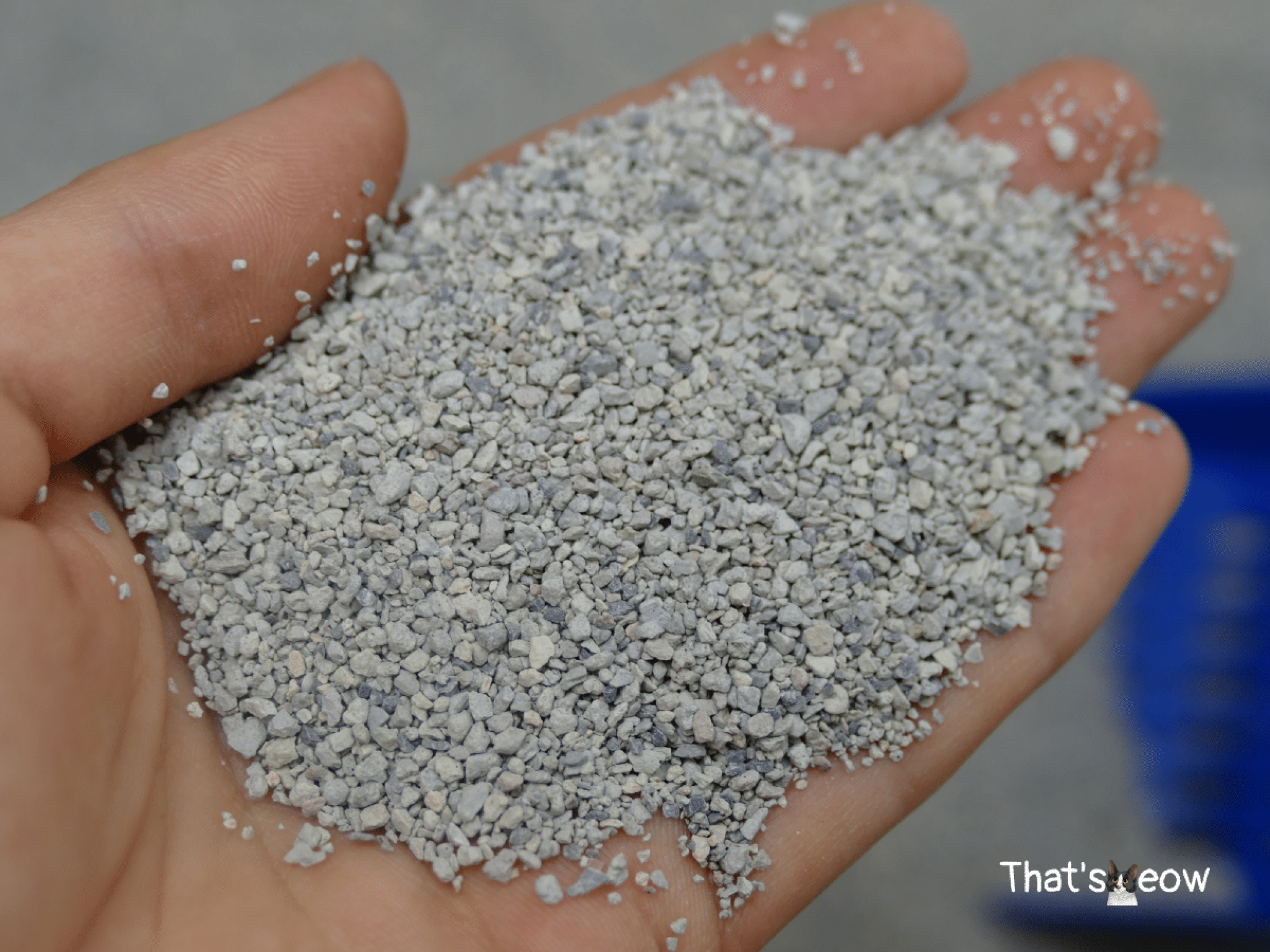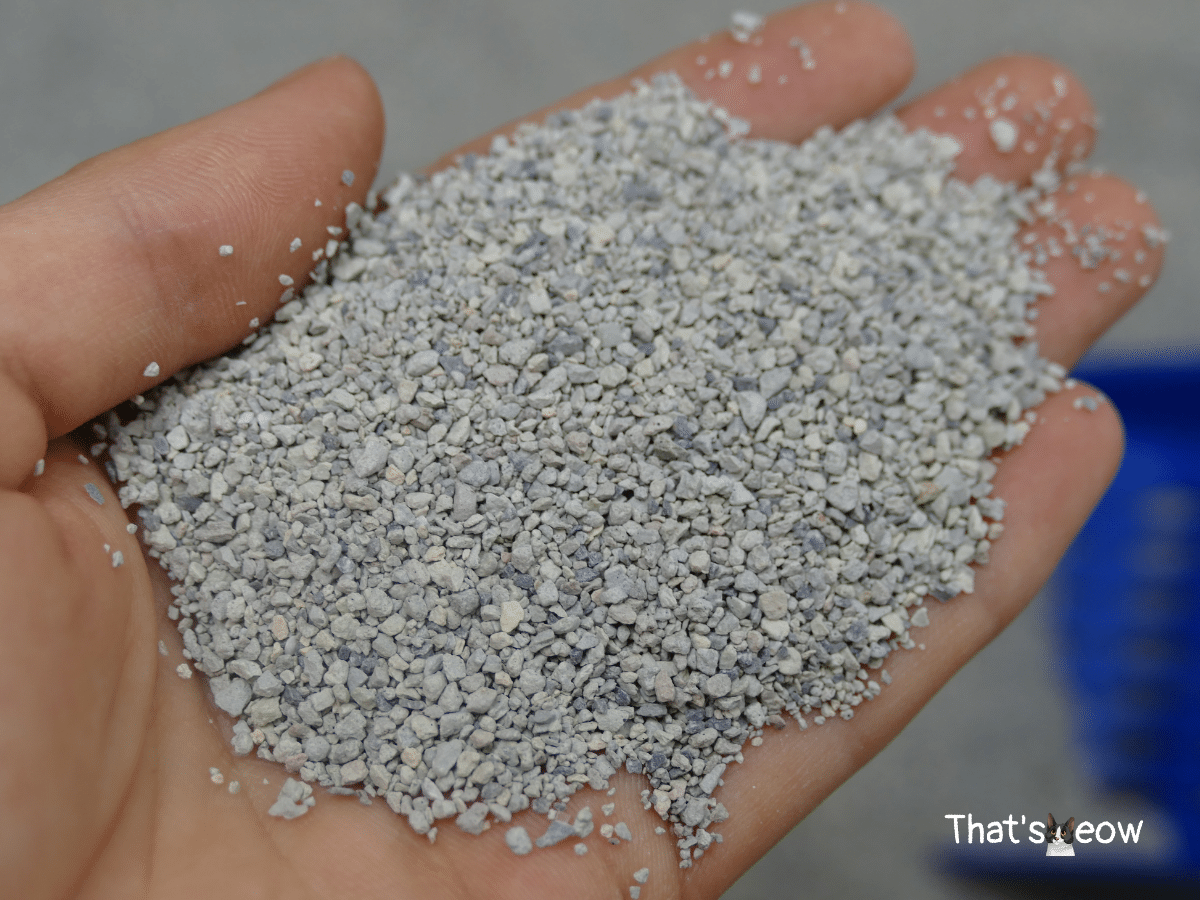 This special clay is super absorbent, taking just a few seconds to form into solid clumps when is in contact with liquid, making cleaning it easier and reducing litter consumption.
In their plant-based cat litter, Intersand combines the natural properties of corn and wheat in a unique chemical-free formula that is made out of 100% natural and biodegradable ingredients. The raw materials are grown locally near their own processing plant. They even have a USDA certification to prove their formula is entirely made from biobased ingredients.
Intersand's odor control formula for cat litter
You might think what's so special about Intersand? Well, not only their cat litters are natural, but they have a non-invasive odor control formula, the small blue granules you see in the scented cat litter, which is made out of natural minerals to mask the bad smells coming from your cat's litter tray. When in contact with liquid they give out a gentle and subtle fragrance. The litter still doesn't contain any chemicals that can affect your cat's health.
Many cat litters on the market use powerful chemicals and antibacterials to control the odors in cat pee, and many of these agents are even used as pesticides, some are highly toxic, and most can cause harm to your cat and everyone in your home.
All Intersand products have no traces of toxic substances in their cat litter varieties.
Did you know?
Cat pee doesn't actually contain ammonia. The strong ammonia smell occurs when the cat pee gets in contact with oxygen and promotes the growth of bacteria in your cat's litter box. 
Suitable for kittens and cats with allergies!
All Intersand products are suitable for kittens. Made with the well-being of cats in mind they are free of any allergenic products, or any volatile chemicals that can harm your cat. All the fragrances the brand uses although artificial, come from certified suppliers and are 'encapsulated' in the litter grains, which means they release the smell only when in contact with your cat's urine. Upon opening a scented bag of Intersand cat litter you will notice only a mild scent, that becomes more notable when your cat uses the litter box.
The clay litter is dust-free which allows even cats with asthma to use it. The grains of the litter are very small and soft, making it purrfect for litter training a kitten.
❗ Although their biodegradable formula made out of corn and wheat materials is also free of any chemicals, 100% natural, and kitten appropriate, we do not recommend it for kittens as they might eat it. Usually, plant-based litter might smell close to human food and your curious little kitten might be tempted to try it. And we know cats are obligate carnivores and can't properly digest grains and vegetables because they lack the enzymes to do so.
To learn more about cat nutrition read our article: Cat Food – A complete guide to cat nutrition
What makes Intersand eco-friendly?
The Intersand company has had a zero-waste policy since 2017, recycling and reusing all of their production waste, and they have their own production plant equipped with solar to reduce electricity consumption. Almost all their plastic bags are made in Quebec from grade 4 recyclable plastic, with the only unfortunate exception being the bag that OdourLock litter is packed in, which is made from a mix of plastics more strong and not recyclable in Quebec, to give cat owners a more durable bag with a handle that doesn't break. The company assures us that they are always looking for new solutions to make their packaging more environmentally friendly.
Where to find Intersand cat litter?
Intersand is made in Canada, but you can find this pawsome cat litter in about sixty countries over three continents, including America, Europe, and even some countries in Asia.
They have a simple yet effective distribution method, choosing to trust small businesses all over the world to sell their products instead of going through mass distribution.
For the exact locations of a pet store near you that sells Intersand litter use their Store locator.
Now let's see what is so special about each of the Intersand cat little types.
Intersand OdourLock – Ultra premium, multi-cat litter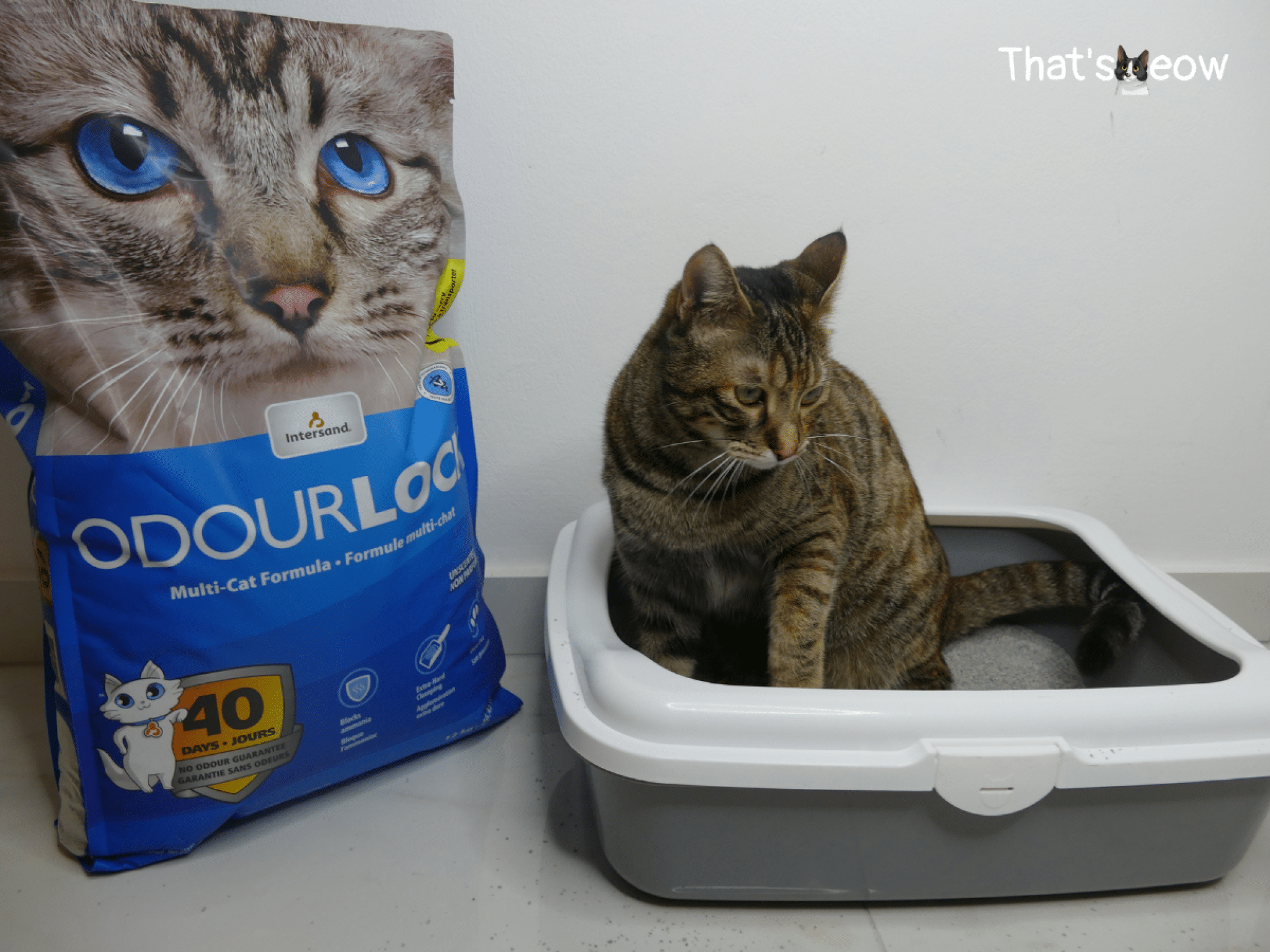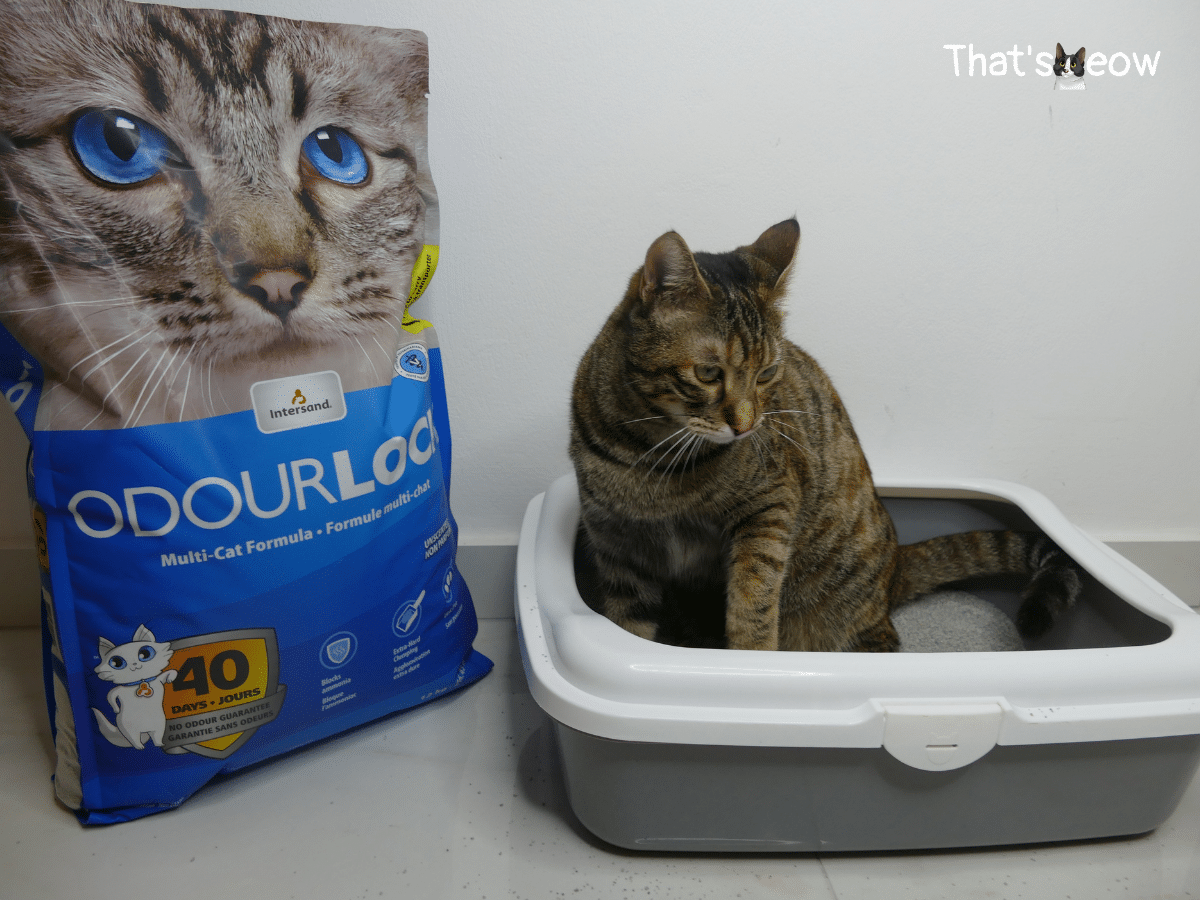 The Intersand OdourLock is an ultra-premium, clumping cat litter that neutralizes the ammonia scents from cat urine which makes it perfect when more cats use the same litter box. We get the Unscented option for Dobby and Dot because they still use one litter box together.
This is a mineral litter, made out of high-quality clay, sodium bentonite, that clumps perfectly into strong balls of litter and is 100% natural.
The texture is almost as soft as sand, leaving a gentle feeling under your cat's paws, but at the same time, Wyoming bentonite is less brittle which naturally produces less dust making this litter dust-free, and safe for cats, and their owners, that suffer from asthma or are allergic to dust.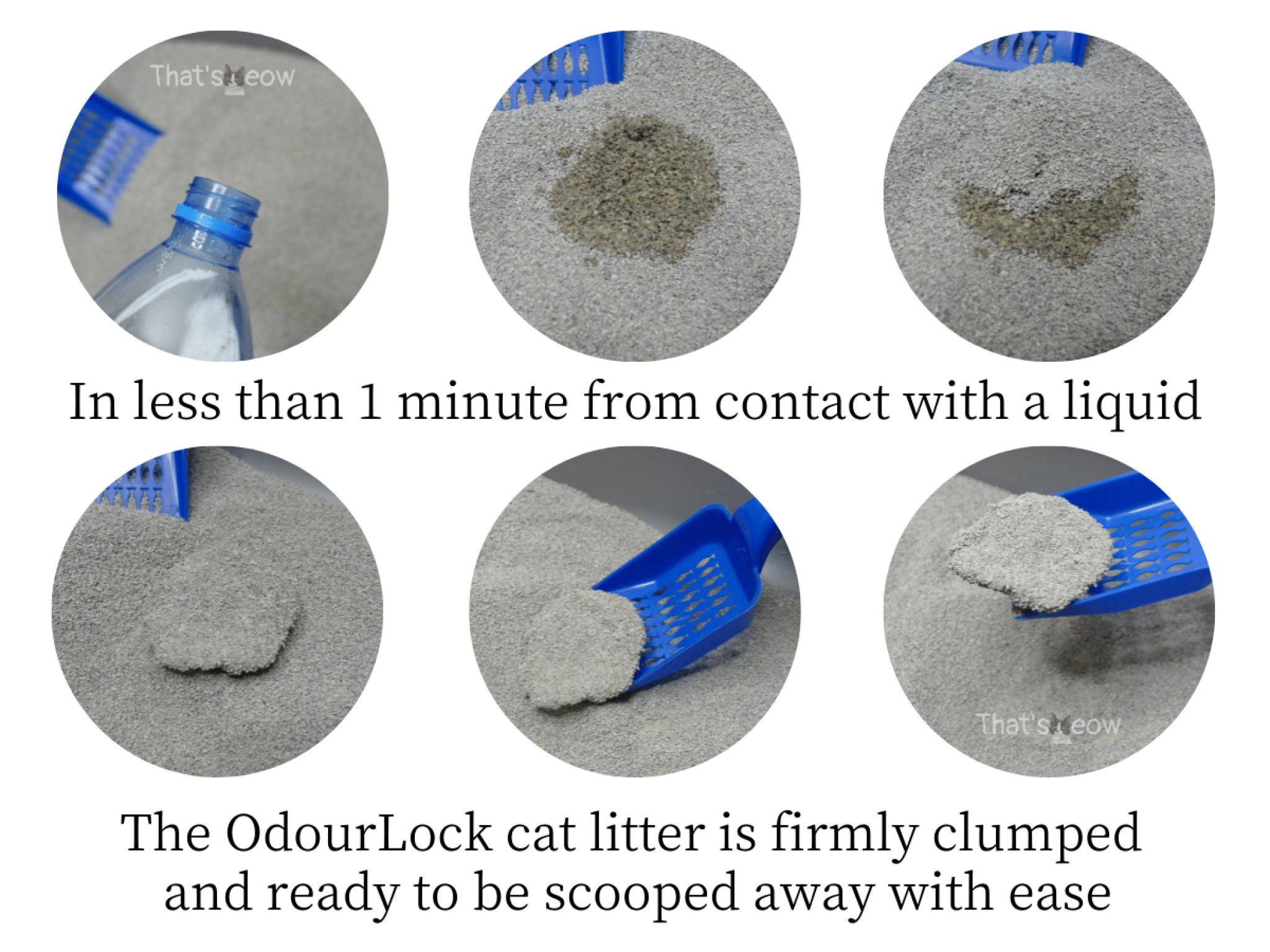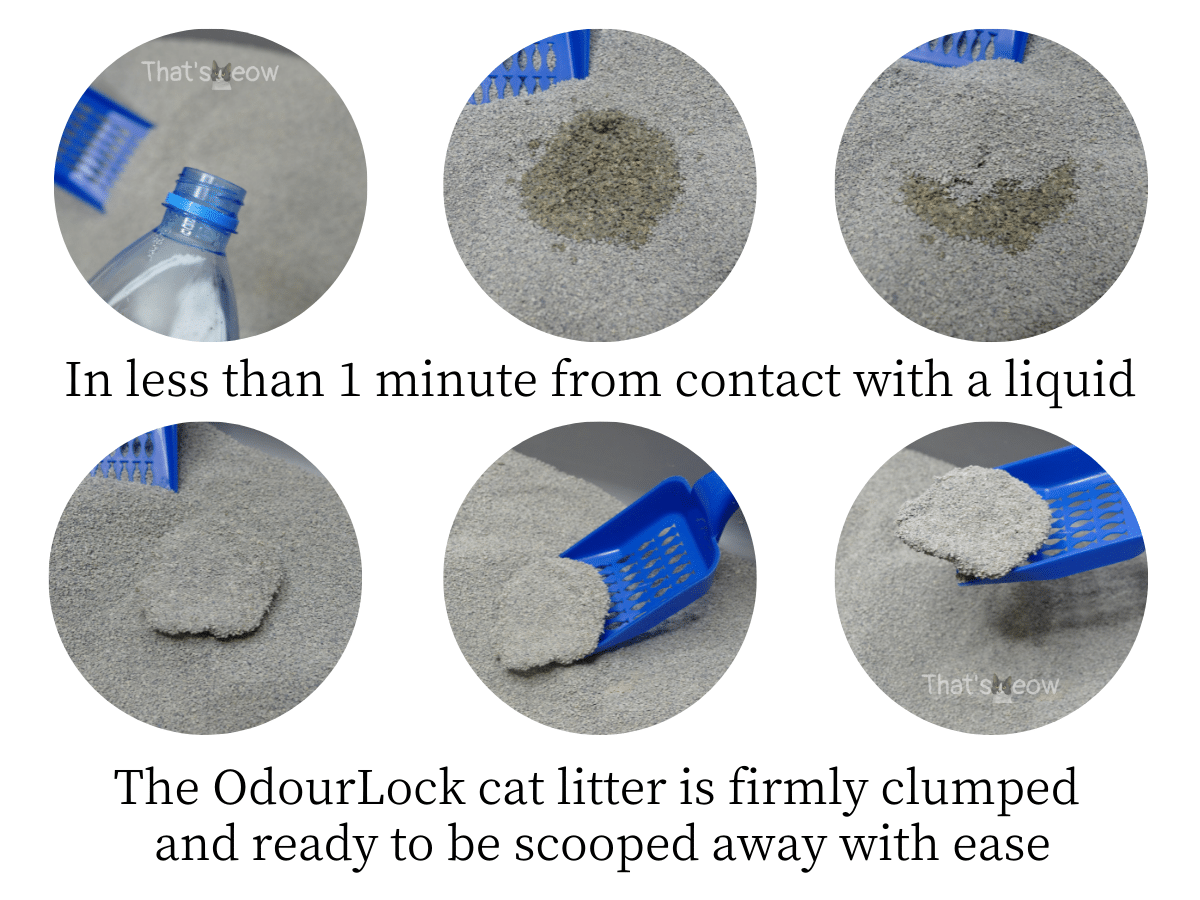 Because OdourLock can absorb up to six times its weight in liquid and has very rapid absorption, your cat's litter box remains free of any small residues making cleaning super easy and helping you reduce up to 45% of the amount of litter you would normally use in a year! It's all about saving your money!
The odor control formula contained by this cat litter uses a patented technology that neutralizes the growth of ammonia smells in cat urine and feces. The litter is available with no scent or slightly fragranced and it releases its smells only when in contact with liquid. Keeping in mind cats with sensitivities, the fragrances used are carefully selected to release subtle scents that don't disturb your cat's bathroom routines.
OdourLock is available in 15 and 25lbs bags (5.5 and 12kg) and comes in 4 fragrances:
Unscented – blue bag
Calming Breeze – green bag
Baby Powder – pink bag
Lavender Field – purple bag
The bag of the litter we have is the Unscented, which comes in blue color, and features the face of what we believe is a beautiful Neva Masquerade cat.
The benefits of Intersand OdourLock premium cat litter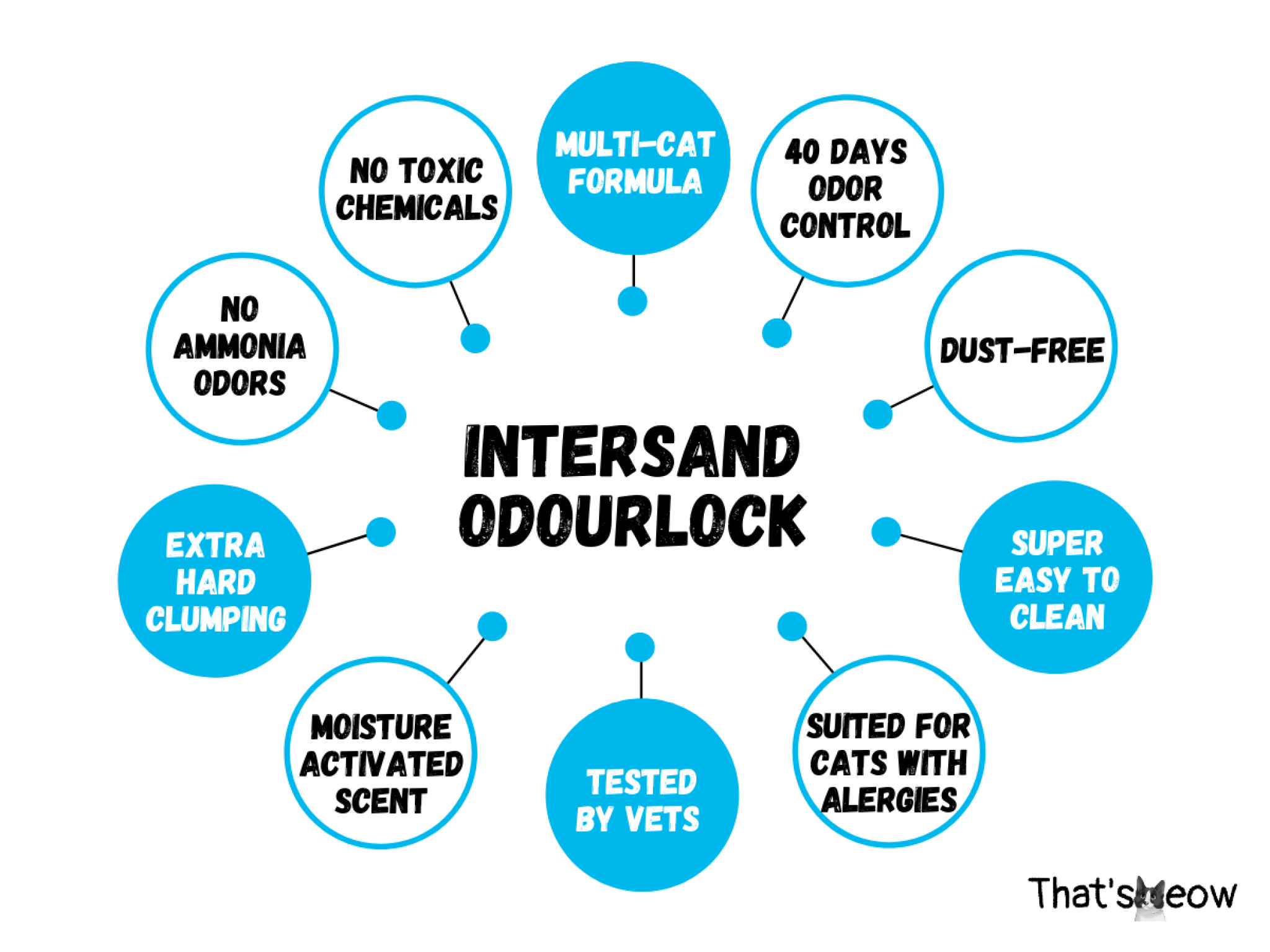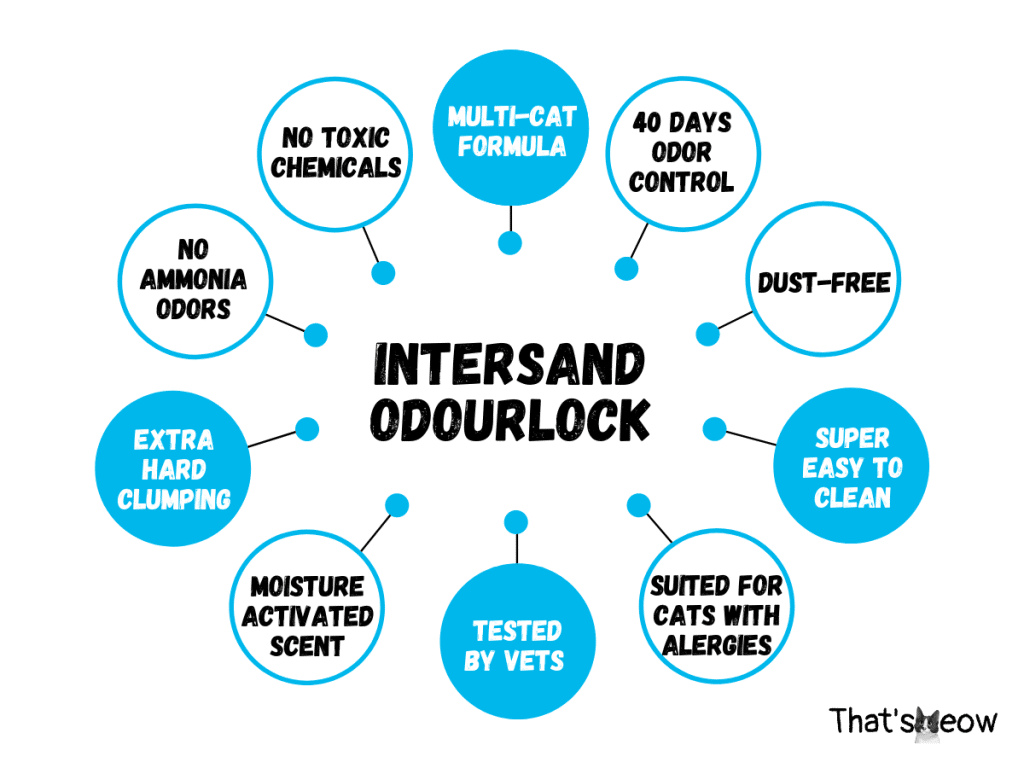 Pros:
Made out of 100% natural clay
Safe for the respiratory tracks of your cat and yours
Suitable in a multi-cat environment
Tested by veterinarians 
Quick and easy to clean
Odor control for more than 40 days
Neutralizes ammonia smells
Moisture-activated scent
You can scoop just once per day
Dust-free
Extra-hard clumping
Reduces litter consumption by up to 45% per year, helping you save money!
Comes with or without scents
Available on 3 continents
Cons:
More expensive than 'supermarket' litter
Between 1,85€ – 2,08€ / Kg

We pay 22.50€ for a bag of 12kg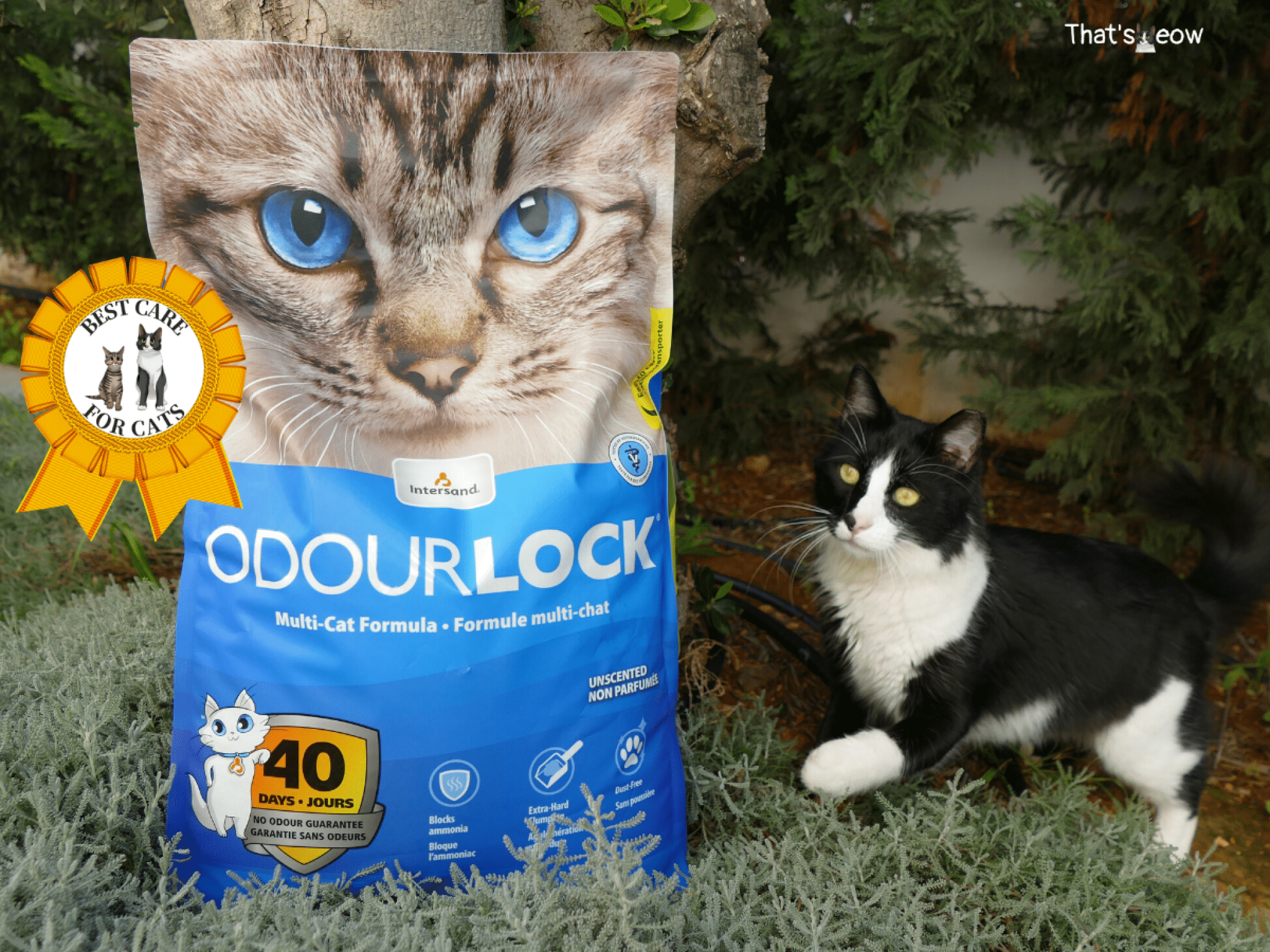 Intersand Ecolife – Ultra premium, earth-friendly, clumping litter
Ecolife is a natural eco-responsible clumping cat litter made from 100% biodegradable ingredients, combining corn and wheat not intended for human consumption, in a chemical-free formula exclusively processed to obtain a litter as good as the other clay-based cat litters produced by the Intersand brand. The raw materials are grown locally nearby the company's processing plant.
The litter is lightweight and effective, with a capacity to absorb up to four times its weight in liquid, forming solid clumps to ease cleaning and reduce the amount of waste.
The Ecolife litter is unscented and dust-free, offering a healthy environment for you and your cat. It eliminates odors naturally with superior odor control, it's 50% lighter than the other clay-based litters and comes in a 12lbs bag (5.5kg).
Overall, Intersand Ecolife is a high-performance, economical, environmentally friendly, and easy-to-handle, plant-based cat litter. It received a USDA certification confirming that the ingredients found in the litter's formula are 100% biobased.
A responsible choice for your cats and for the planet!
Benefits:
Benefits
100% natural formula, made from a combination of corn and wheat
Hard clumping effect
Superior odor control
Easy to handle
Easy to clean
50% lighter than clay-based formulas
More economical
Environmentally friendly
Dust-free
Allergen-free
Doesn't contain toxic chemicals
Tested by vets
USDA certified 100% biobased product
Disadvantages
Might not be suitable for kittens as they are curious and could try to eat it
Still quite expensive, about 3$ (2.70€) / kg
You can get a bag of 5.5kg for about 16$
Intersand Classic – Premium clumping litter
The Classic litter was the first cat litter Intersand sold over 20 years ago.
The litter is made out of high-quality bentonite clay from the Wyoming mines in the US, with fast absorption of liquids and a solid clumping formula that makes cleaning easier and also reduces the consumption of litter.
The types of the Intersand Classic litter come as followed:
Unscented (available in 7 and 14kg bags)
Baby Powder (7 and 14kg format)
Lavender (only in 14kg bags )
Northern Forest (also only 14kg format bags)
Having the health of our cats in mind, the light scented varieties of the Classic cat litter contain non-invasive blue granules made out of natural minerals to help make the unpleasant smells of the litter box, without volatile chemicals.
Benefits
Made of high-quality 100% natural clay
Triple action formula
Effective control of bad odors
Without fragrance or lightly scented
Allergen-free fragrances
Safe for the respiratory tracts of humans and cats
Easy to clean and maintain, scoop just once daily
Good value
Fast absorption and hard clumping 
Reduces overall consumption of litter 
Without toxic chemicals
Dust-free
Tested by veterinarians
Disadvantages
Still expensive, about 1.75€ / kg
you can get a bag of 14kg with about 24.50€
Intersand Simple – Value for money clumping cat litter
Simple, as the name implies is a clumping cat litter that offers good value for money and even though it's unscented it effectively controls unpleasant odors.
The Intersand Simple cat litter is made out of natural clay granules that can absorb up to three times its own weight in liquid and has a dust-free formula.
It's easy to clean, saves time, and helps you save money! The price is very competitive for its size, it comes in 10 and 18kg formats.
Benefits
Made from natural clay
Highly absorbent
Odor control 
Easy to maintain
Easy to clean
Fragrance-free
Dust-free
Cheaper, about 0.75€ (0.83$) / kgYou can get a bag of 18kg for about 15$
Overall
We believe all the Intersand cat litters types are some of the best cat litters in the World. Suitable for cats of any age, easy and practical to use, highly absorbent, and fast clumping. The dust-free, allergen-free formulas are developed by veterinarians with the well-being of your cat in mind, and the litter contains natural materials without any toxic chemicals that can affect your cat's health or yours.
We found Intersand OdourLock, Intersand Ecolife, Intersand Classic, and Intersand Simple clumping cat litters worthy of our Best Care for cats Award and we highly recommend it to all our furriends.
Thank mew for reading our article!
What is our Best care for Cats award?
We created the award Best Care For Cats as a trusted sticker that we will associate with all the cat products we find worthy of your cat's health.

The award will be used on the best cat products out there, from cat food, litter, and litter boxes, to toys, supplements, accessories, and any other products that help us give our felines a healthy and thriving life.

In this article, we found the cat litter brand Intersand worthy of our special award!

Because your cat deserves nothing but the best! ❤️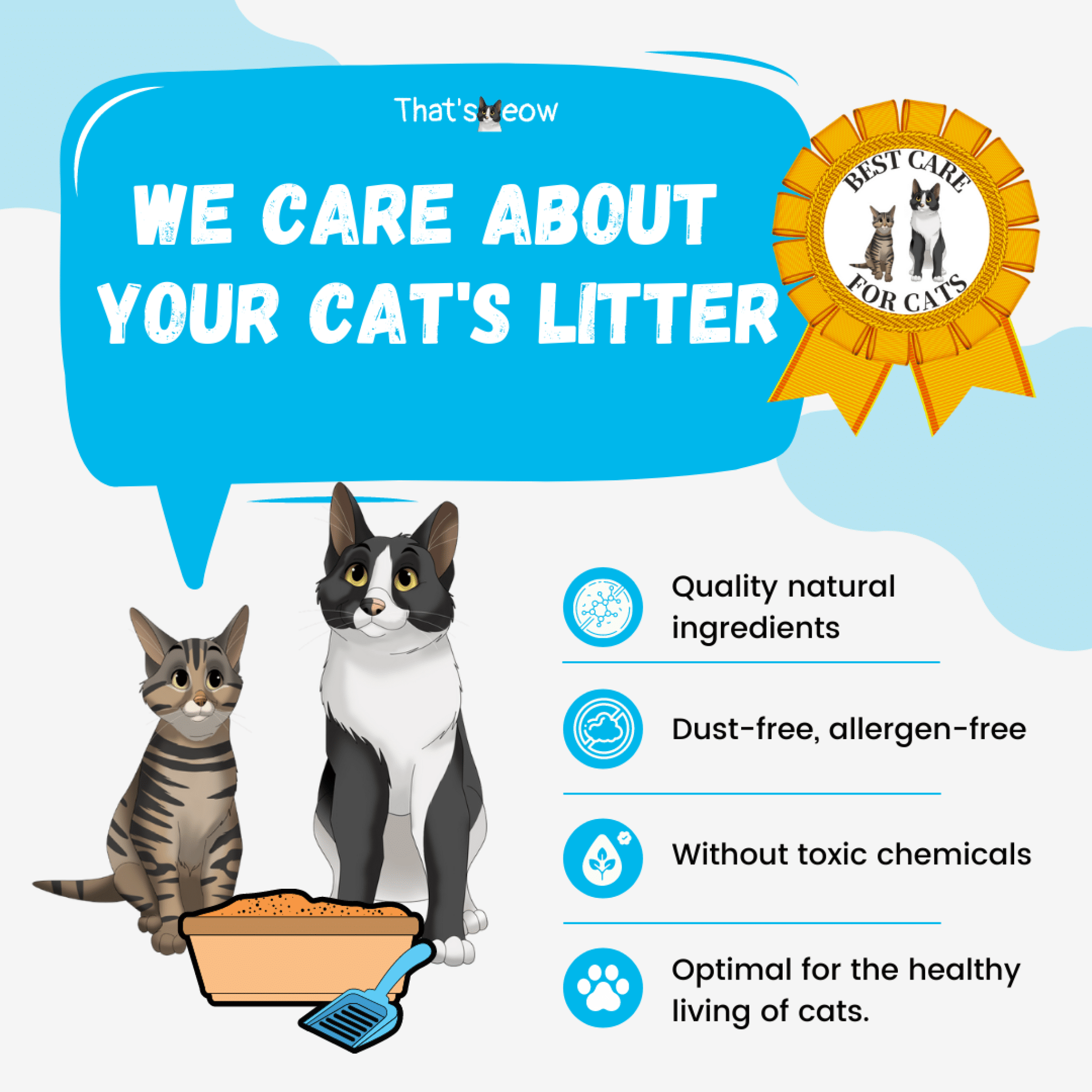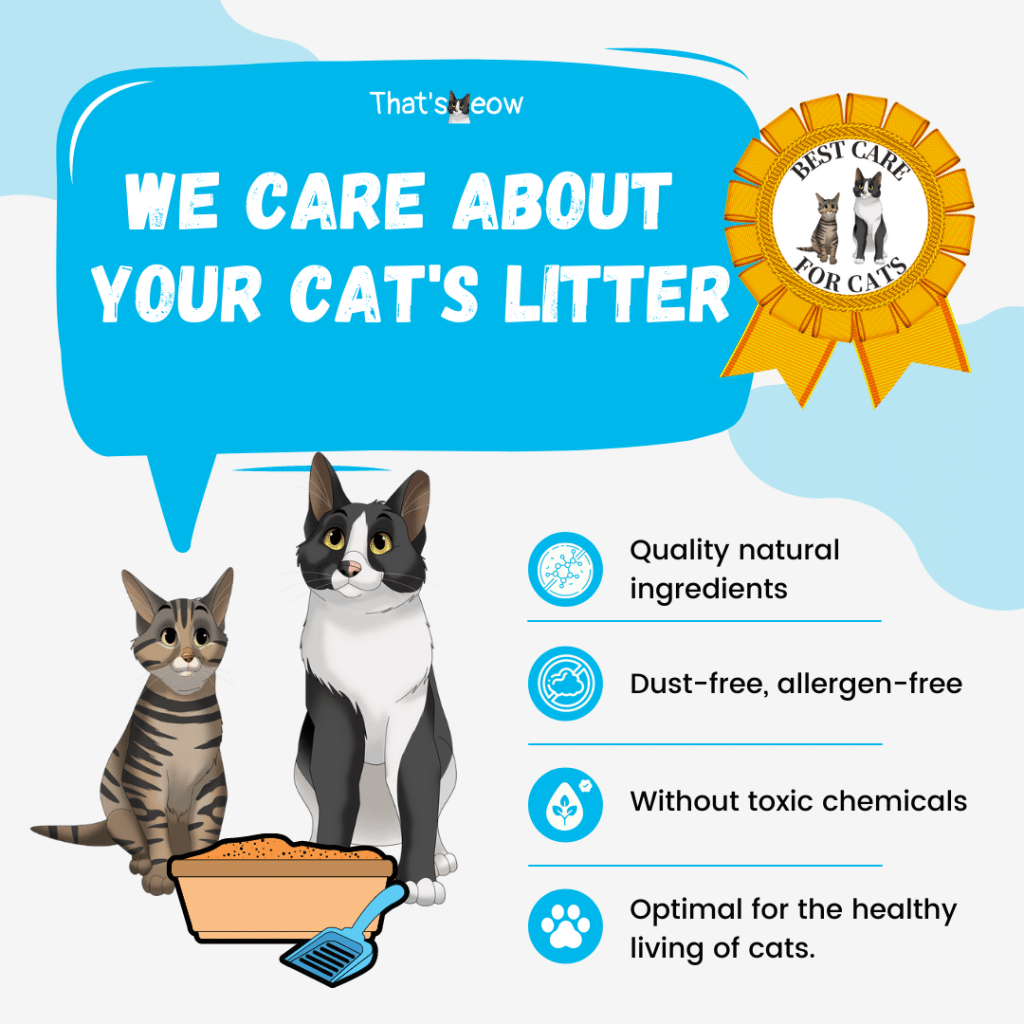 If you made it this far why not leave us a comment and tell us which type of Intersand cat litter is your favorite?
Have a purrfect day!