Even though it isn't nearly October yet, the spooky vibes of Halloween have begun to spread around rather quickly this year. So we thought of keeping you way ahead of the carve!
We did some witchful thinking and gathered a collection of cute and funny Halloween costumes that cats can wear, so you can continue the Halloween dress-up tradition with your family and include your kitty in the photo session, and have a spook-tacular time together!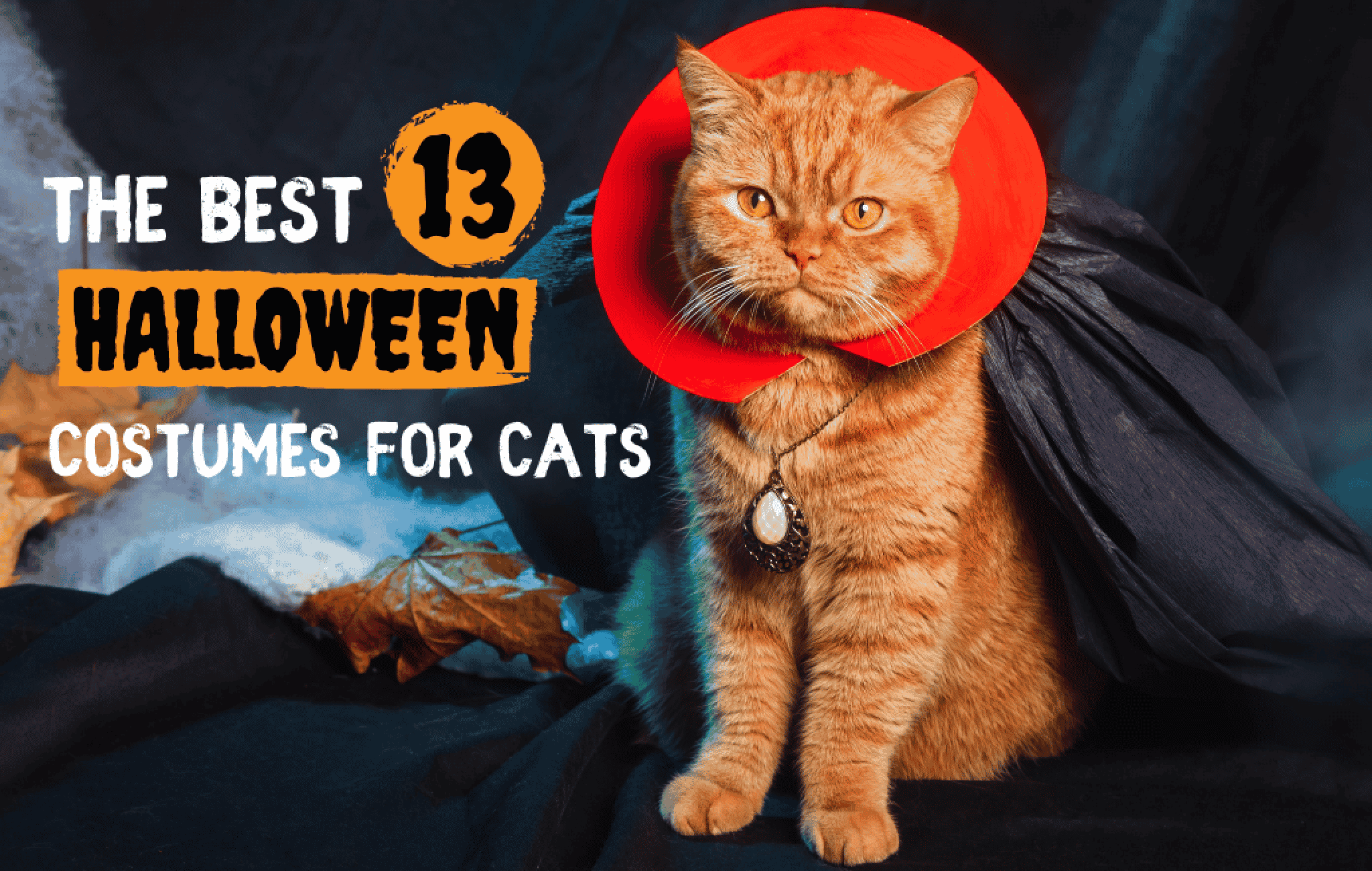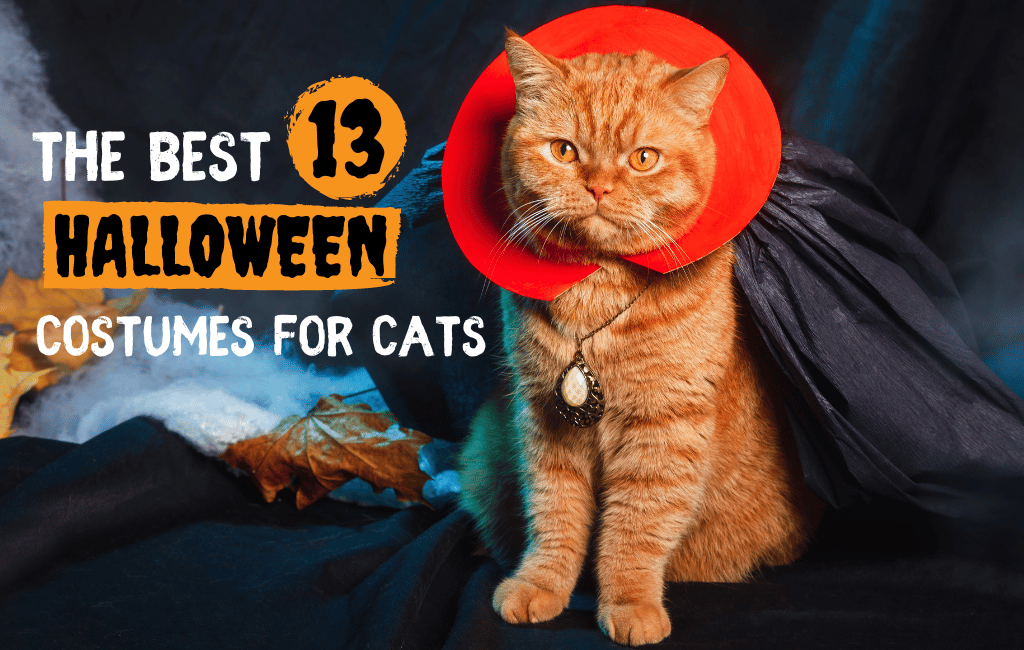 We chose easy-on designs with built-in holes made out of breathable fabrics to ensure your kitty will have a safe Halloween dress-up with you.
Table of Content [click to expand]
Let's get this pawty startled!
Best Overall:
Funniest:
Best for Kittens:
Vampire costumes for cats
On reflection, vampires aren't actually that scary… But your kitty might be a very cute vampurr this year! Ready to fall in love at first bite? We sure are!
Here is our fangtastic vampire costume selection!
❗ Please consult the size chart before purchasing any costume to make sure it fits your cat! ❗
back to menu ↑
1. Hipetime Vampire Cape
We think this is by far the best Halloween cape costume for cats from Amazon. It looks very pawsh and nicely crafted from satin material which is lightweight and easy to wear. The buttons on the chest are designed to prevent your cat from escaping and are rather durable compared to velcro hook and loop tape. It comes in sizes M and L and for a normal-weight cat, we recommend size M, unless you have a Maine Coon cat of course.
Take a photoshoot now and fang us for the memories later!
back to menu ↑
2. GeszCreations Dracula Cape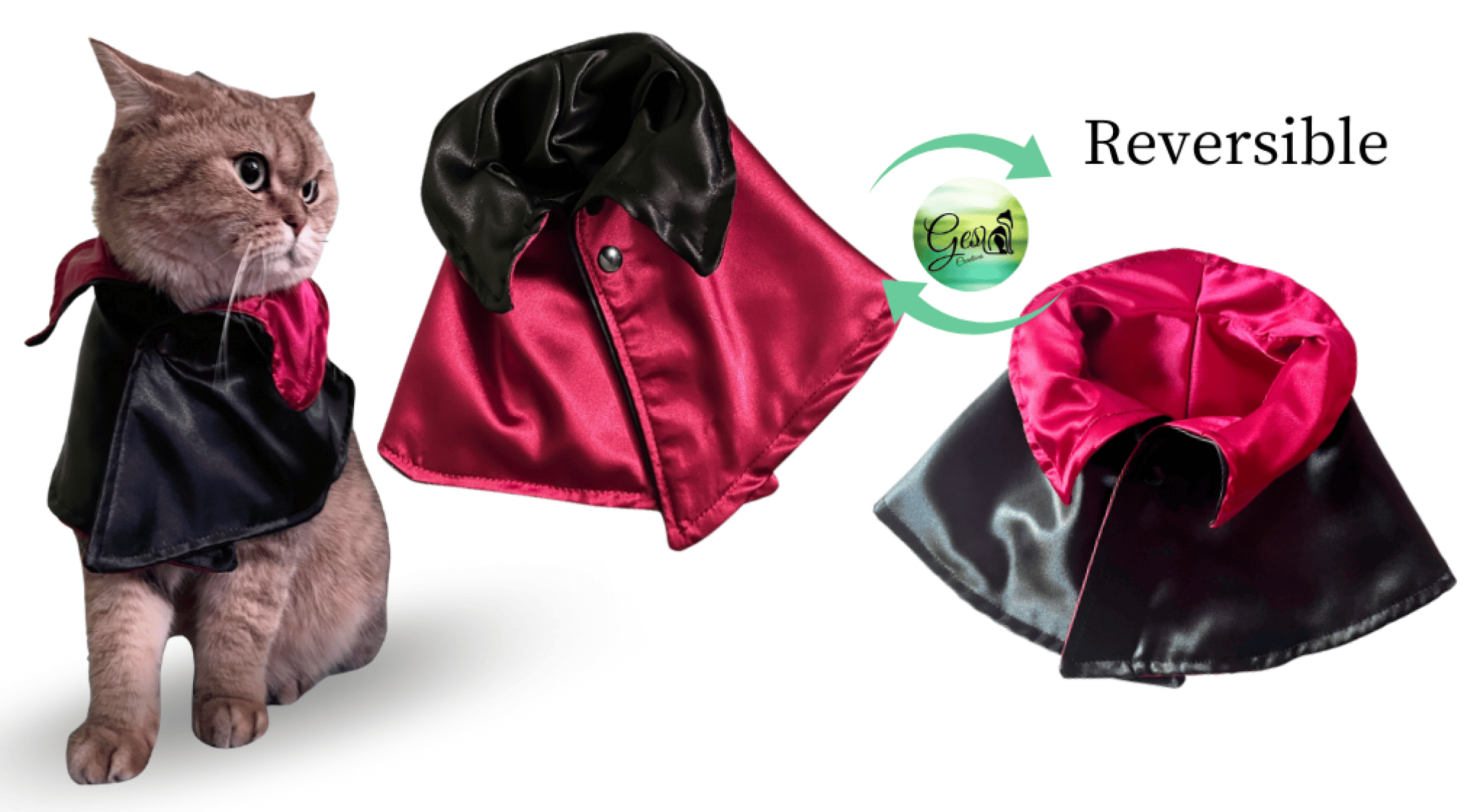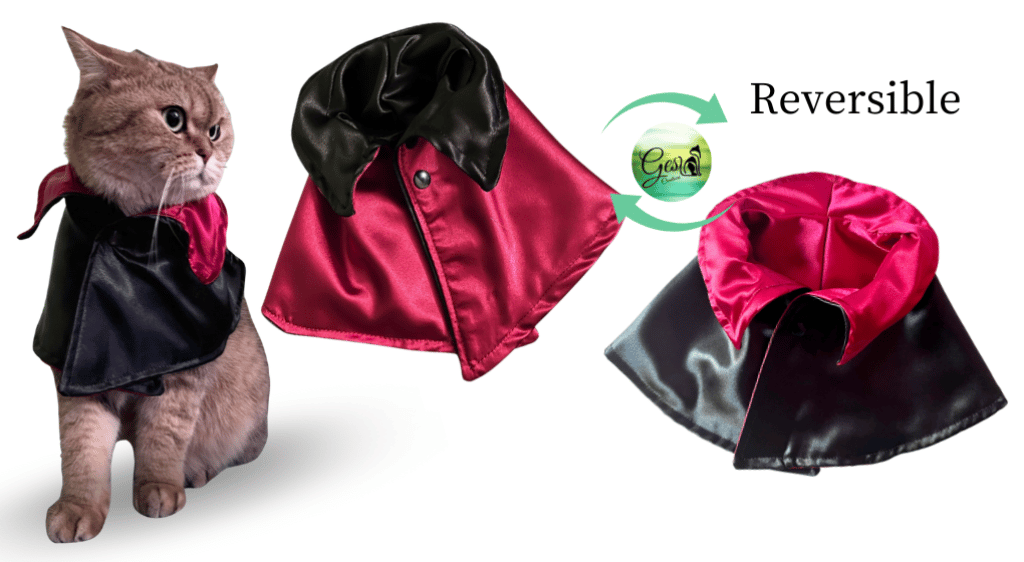 This vampire cape is handmade and easily affordable. It will certainly be simple to put on and take off your cat, as the seamstress, was experimenting with many cape varieties until one was finally tolerated by her picky cat Gesz. The cape is reversible, made from elegant satin fabric, and adjustable with two snaps. It can also be personalized if you contact Renata.
🤑 Discount 🤑
Since we are GeszCreations' store ambassadors, using the coupon code "DOBBY15" will save you 15% on any purchase! They deliver worldwide!
back to menu ↑
3. ZWMBYN Cat Vampire Cloak
Made from satin material which is comfortable and comes in black and red color. The downside of this cape might be that is only available in one size with a neck circumference of 11.4″-13.7″ (29-35cm). The cape straps can be adjusted freely which makes it super easy to dress up your cat. The brand reveals that it is made in China so you know what you can expect, but we figured out it can be worth the try at this value. It will definitely give elegant Count Dracula vibes to your Vampurr kitty.
Of all the other costumes that look just like this one on Amazon, we chose the Zwmbyn brand as we thought it was the least misleading of them all. This is a new 2022 costume with no reviews anywhere yet (it is now August 2022 when I am writing this post).
A very similar product is the Halloween Pet Cape Costume from HANGFEIBAC *-affiliate link
back to menu ↑
4. Boao Cape + Bat Costume Set with Pumpkin Bells
According to customers' feedback, the quality of both the cape and the wings seems to be very good and it is easy to put it on and get it off your kitty. The pumpkin heads can also be attached to a collar.
Additionally, the buyers agree that the velcro is big enough and that the costumes are not overly unpleasant for their cats.
The cape is made out of acrylic fiber, soft and comfortable, and the bat wings are from lightweight felt. The set contains 1 piece of wings, 1 cape, and 2 pieces of pumpkin bells.
back to menu ↑
Witch costumes for cats
If you are feeling witchy we gathered some costumes to make your Halloween hex-tra special!
❗ Once again I am reminding you to please consult the size chart to avoid disappointment. ❗
back to menu ↑
1. Gushehua Witch Costume Set for Cats
Made from polyester and cotton, the cloak should be comfortable enough for a cat to move around freely, but the witch hat does not have ear holes and will fall off easily from your cat's head. The only hack would be to place it over one of your cat's ears to keep it more in place.
Not very specific about sizes, the description states it's made for cats and small-sized dogs, and will probably fit any cat because you can easily adjust both the cloak and the hat. If the broom fits then why not?
It comes in black color with golden spider web, pumpkins, witches, and scared cats Halloween motifs.
back to menu ↑
2. Dxhycc Cat Wizard Costume
This is a good set for a witch costume, in one of the traditional black and purple colors of Halloween. The hat has an adjustable strap, but no ear holes, so you have to place it over one of your cat's ears to keep it on longer. The 'half' cloak is made from satin with no sense of restraint for your cat and is fastened easily.
Customers say that it's falling apart rather quickly, but it should hold for at least a couple of cute pictures.
After all, you can't always get what you wand at a cheap price!
back to menu ↑
3. RYPET Cat Halloween Costume
With over 500 customer reviews and just a few low ratings, this set seems to be quite popular and worth the try considering the low cost.
The collar is decorated with Halloween carved pumpkins and small white bones, plus the inscription Happy Howl-o-ween. It has attached 6 jingle bells that seem to come off very easily because they are glued on but are perfect if your cat doesn't like the sound of bells and you need to remove them anyway.
The hat also does not have any holes for ears, so it will certainly fall off if your cat is playful. Both pieces are made out of polyester material.
Both the hat and collar are made from polyester and fastened with adjustable straps which makes them suitable for cats of all sizes.
back to menu ↑
Funny Halloween Costumes for cats
These costumes are not the most reliable, after all, they are quite cheaply built and cats wriggle around a lot and often time don't like wearing costumes, but they definitely have a 10/10 entertainment value!
In the end, you will probably not pay for the costume, but for the memories!
back to menu ↑
1. Bolbove Pumpkin Costume for Cats
Welcome to the pun-kin patch!
This pumpkin costume is free size with 11.8″-13″ neck girth and 18.5″-20″ chest girth. The hat should fit a head between 13″ to 15″ but customers report that the hat is hard to keep on, just being fastened with one velcro strap underneath the chin. Even though the hat has ear holes, they seem to be too far apart for cats to wear and they do not line up with the natural position of cat ears.
Kitties seem to be having a gourd of a time wearing the pumpkin costume, tolerating it quite well, and still being able to run around and move as the velcro fastens strong enough to keep it on without popping off. The great fit of the costume made many customers love it and not mind the hat not being wearable. The set also comes with a Bolbove keychain gift.
back to menu ↑
2. TEHAUX Cat Halloween Spider Costume
This realistic spider costume is also new to Amazon and does not have any reviews yet. But, considering that all the other spider costumes have bad reviews about being very cheaply built, running small, and breaking apart easily, we decided to give this one a try. It looks pawsh enough to give it a try anyway!
It comes in two sizes, so please consult the size chart before purchasing anything. The design looks sturdy and comfortable, but because it is made out of plush material it might be a little hot to wear. Both the neck and the chest velcro straps have an adjustable range of approx. 1″-4″.
back to menu ↑
3. Puoyis Bat Wings for cats
These stinking cute bat wings are the best choice from Amazon with over 4000+ good reviews. They are made out of thick felt material with fastening velcro straps under the belly and around the neck for a secure hold. According to customer feedback, the material feels nice and the wings are lightweight but sturdy enough to hold their shape. Depending if your cat is sitting or standing up the wings will either drop or sit up!
It is not complicated to put on and take off, and your cat will be able to move freely and bounce around. Cats seem to tolerate it for longer periods than other costumes, but again you only need a few cute pictures.
Be warned that this product isn't fit for chonky kitties, the velcro strap around the chest seems to not be adjustable and only fits cats up to about 11 lbs.
If your cat is black, these wings will probably make him seem more like Toothless than a bat.
back to menu ↑
4. OMG Adorables Lion Mane Costume for Cats
This is the lion mane with the most reviews on Amazon, and from customer feedback, it's quite good and adorable. The product features full bushy hair with a rugged look and plush ears, made out of cotton and polyester, and seems to be quite fitting to an adult cat's face.
Now this is a pullover mane and cats don't like their head covered, so your cat might not want to keep this on for long. It will be enough for you to take a few photos if you tempt your cat with a bag of tricks and treats.
I think this could be the mane event of the evening!
back to menu ↑
5. Cyeollo Small Dragon Costume – Kittens only!
Suitable only for kittens under 4-5lb this costume is pleasantly well made and does not look cheap! The material is comfortable and high-quality, easy to put on and take off your kitten.
Customers are very happy and highly recommend this little costume.
back to menu ↑
7. Harry Potter-themed Cat Costume by Impoosy
If you are a fan of Harry Potter, then why not have your own mini Hairy Pawter wizard at home?
This cloak is so cute and easy to put on with two velcro fasteners around the neck where the tie goes and around the chest. The costumes comes also with glasses, but most cats can't be persuaded into wearing them. An easy tip will be to attach a band to them so they can stay fixed around the head. The glasses seem to be just the frame, so most cats can tolerate them as long as they see through normally. Please consult the size chart properly before purchasing.
Final thoughts
These costumes are purrfect for cats whether your cat is a purrfesional ready-to-pose meowdel or not such a big fan of costumes! Why? Because they are very easy to put on and take off your cat and they do not restrain movement.
Cats can tolerate a costume to some extent but seem to hate wearing something that covers their head, so we tried to choose costumes with easy fastening options that still allow our cats to move freely.
We hope you have a meowgical Halloween-themed family photoshoot!