About Us
Hello, furends!
That's Meow is a feline advice website run by me, Trixie, and my partner Brian, and inspired by our rescued furbabies Dobby -a mannered floof wearing tuxedo fur, and Dot – a bottle-fed tabby little princess.
That's Meow depicts our journey into raising them and discovering every new wonder about the feline world and we are so grateful to be able to share it with you. ❤️
That's Meow is embarking you on the journey of felines!
Here you will find the things you never thought you needed to know about cats!
Catch up with the finest pointers and pieces of advice on cat-related topics and all the must-know things about getting a kitten or a senior cat, the benefits of having a kitty, and the pleasure of being owned by one! ❤️
❗ ❗ ❗
Please keep in mind that we are not vets, nor do we attempt to replace your veterinarian. All the useful tips and information you find on this website come from our experiences with Dobby and Dot, or other cats we came across. Always contact your vet or a certified animal behaviorist in case of serious concerns or health issues of your cat.
Dobby
I found Dobby at work. I don't know where he came from, or how he came to be lost in the hotel I was working at. I just heard him scream from the fire exit stairs on the second floor. And what can I say, he came he purred, he concurred! It was love at first meow! He was very friendly and I thought maybe he belongs to some neighbor of the hotel or the feral cat colony of the hotel, but after taking him outside he just ran back to the same spot where I found him. Nobody came looking for him and soon after I fed him, he started following me everywhere, so he became my office cat at the hotel reception! ❤️
You can follow his journey from the beginning on Instagram and how he came to accept and love Dot as his lil 'bro' 😂
Dobby is gentle, clumsy, funny, and an overall chill fluffball that likes to lay around and watch the world go by from the window. He gives me love, but only on his terms, and has the power to keep me in bed for extra cuddles when it suits him.
He is weird and makes me laugh. He loves water and drinks it straight from the sink tap.
He is a master at unrolling toilet paper, chewing phone chargers, and shoelaces.
He drives me crazy when he wakes me up in the middle of the night scratching at the mirror or busts open the bedroom door whilst I sleep to get my attention knowing it's bad behavior as he rubs it in my face by deliberately pawing at the mirror one more time when I tell him off, or looking me straight in the eyes with a "what you gonna do about it" face.
He thinks he is a food connoisseur and demands to try out anything I eat not hesitating to let me know he thinks my food is 'crap' by trying to cover it up with invisible sand or pretending to vomit when sniffing it.
He is a loving brother, but when his she-devil little sister Dot gets on his last nerve he engages in wrestling matches with her all over the house.
He invades my privacy. I can never go to the toilet without him sitting on my lap or spying on me in the shower. He follows me everywhere and greets me when I get home with meows from the balcony.
Even though he adds fluff to anything I own, scratches my yoga mats, pulls down the clothes from the drying rack, and puts his paws in all my drinks, I love him. He is 'mommy's boy' and my life would not be complete without him.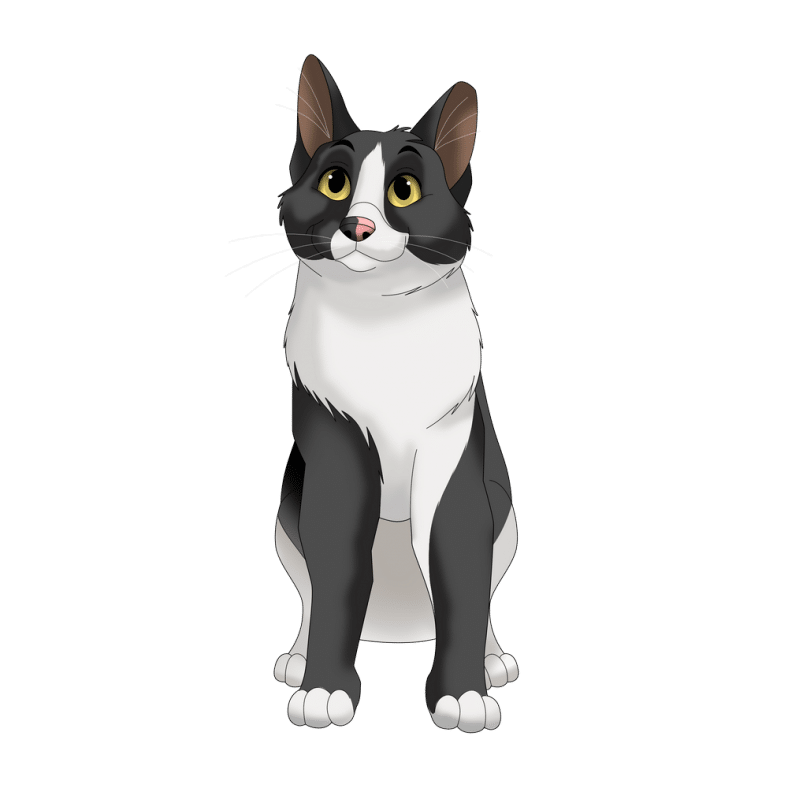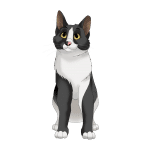 Dobby
Actually, I chose mom and allowed her to be my human so she can empty my litter box and give me chimken!
Dot
Dot was rescued from the garbage by my brother, who found her on his way to work. He heard her little screams and went to check, but she was so small he didn't know what to do with her, to be honest, neither did I at that time! But I learned very quickly how to bottle feed her and help her wee and 💩.
She was about 2 weeks old and I really thought she was blind because she would not react to my hand in front of her face at all. I also mistakenly believed she was a boy because of her fur marking until she was about three months old and the vet confirmed she is in fact a girl. 😅
Dot is wild, curious, funny, and extremely playful. Every day she likes to 'help her big brother grow extra white hair' so to speak. Her favorite activity is biting Dobby's tail and playing fetch with her fluff mouse toys. If she could she would probably ask me "What dis?" hundreds of times per day. She plays with everything and likes to run around like crazy from room to room especially when we sleep.
She needs regular attention and doesn't stop screaming at us until we pet her, but will immediately bite you if you pet her too much. She is annoying and demanding but also offers lots of love in return. She is a shoulder cat since a baby kitten and she activates the purrs every time you pet her and she gives you licks when she feels cute. She is a nutshell. She acts innocent every time you catch her doing something stupid, looking shocked back at you when you ask her what she was doing.
She is an interior designer and likes to sprinkle my floor with extra litter, leave scratch marks on the sofas, and decorate the house with plastic bags, toys, bottle caps, and hair ties. She has an adorable face and gets away with every bad thing she does. She likes to drop her toy mouse in the toilet bowl and gets new ones every week. Recently she started playing fetch with my hair ties and now they are scattered all around the house. The good thing is, now I can find a hair tie whenever I need one. 😅 She conquered me from the first fainted meow and I love her with all my heart, but she is definitely daddy's little princess and loves Brian more ( not jealous at all 😒).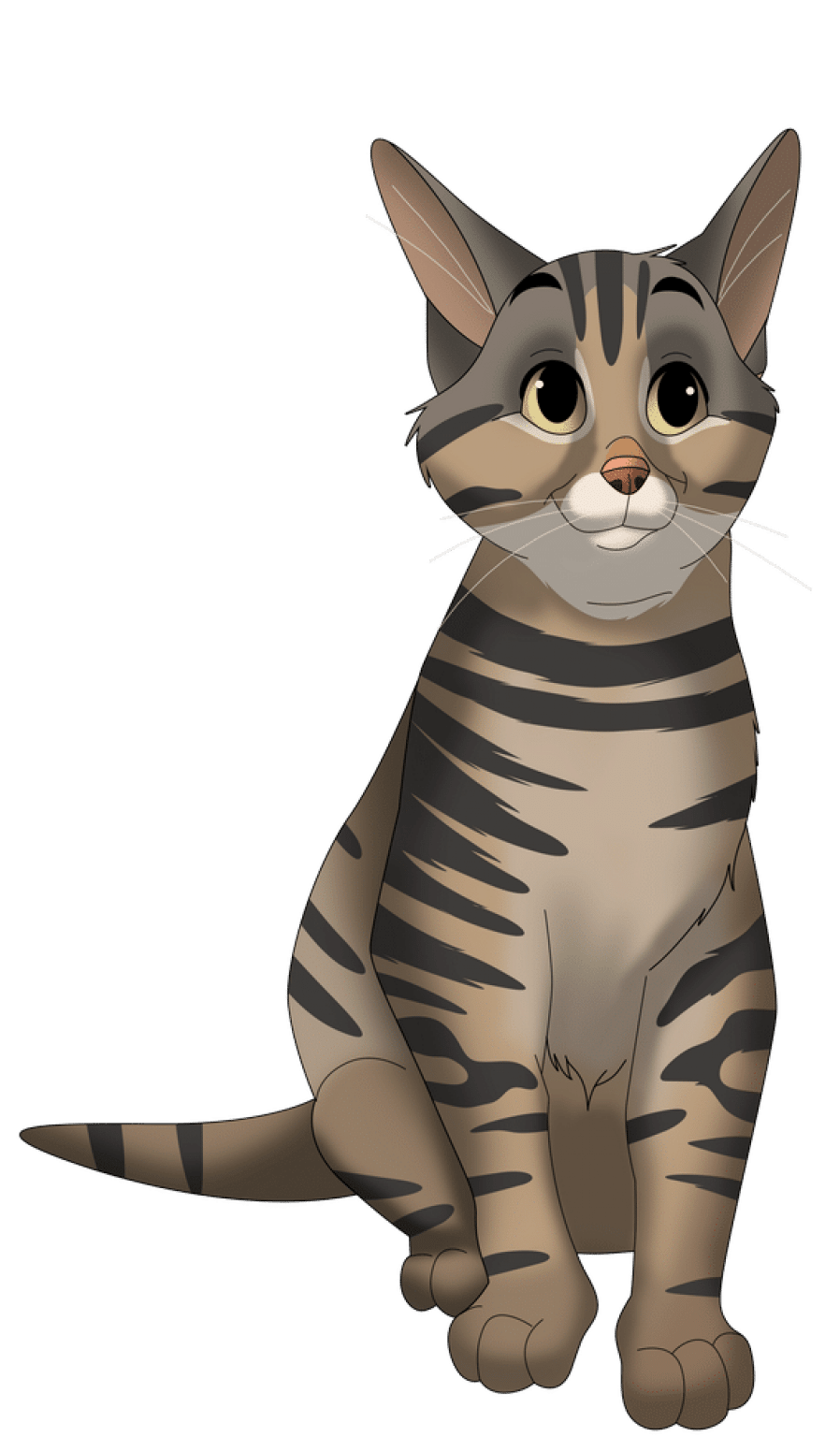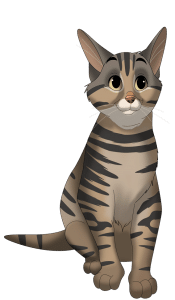 Dot
Thank you for taking the time to read our stories! Have a meowvelous day and stay pawesome!